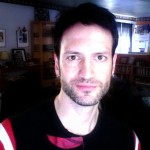 I'm a writer. Becky Cochrane and I wrote THE DEAL together, as well as THREE FORTUNES IN ONE COOKIE by Cochrane Lambert. Together we co-edited an anthology, FOOL FOR LOVE: New Gay Fiction, which was published by Cleis Press in January of 2009. We're currently co-editing another anthology for Cleis Press, which will be published soon.
I also helped write IT HAD TO BE YOU, HE'S THE ONE, I'M YOUR MAN, SOMEONE LIKE YOU, and WHEN YOU DON'T SEE ME with three friends under the pseudonym Timothy James Beck. My short stories have been anthologized in BEST GAY LOVE STORIES 2005 and BEST GAY LOVE STORIES: NYC Edition, as well as Lawrence Schimel's THE MAMMOTH BOOK OF NEW GAY EROTICA. Richard Labonte asked me to select stories and write the introduction for his BEST GAY EROTICA 2007 collection for Cleis Press. Selections from that collection are included with new commentary are included in BEST OF THE BEST GAY EROTICA 3, published in 2010.
I live in Houston, Texas, with my writing partner, Becky, and her husband, Mr. Becky. So far, I've yet to destroy their marriage.  My dogs are named Rexford G. Lambert, Pixie P. Lambert, and Penny D. Lambert.  Pixie and Penny were adopted from Scout's Honor Rescue, an animal rescue located in Houston.