The dreaded blank page. As with my fiction writing (Fictional writing career?), I come to my blog every so often only to sit in front of a blank page and think, "Who give a shit?" Then I go to Netflix and watch every episode of a cancelled television show. However, today I'm forcing myself to type something–anything–to get back in the habit of writing. I don't care if nobody else gives a shit about my writing or what's going on in my life, because I do and that's what matters.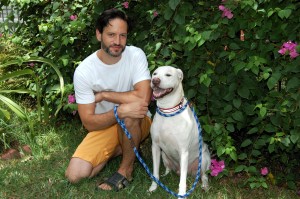 Something really awful happened a while ago. Lloyd is no longer at Hanley Inc. and that made me very sad. Still does. He got to stay with me for a week before his last day with us, which was a mixed blessing. It was wonderful to spend so much time with him and let him know how much I've loved being a part of his life since I started working at Hanley Inc. over four years ago. But it was also hard to let him go once my time with him was up. Makes me cry again now just thinking about him. But it does make me smile to think about how Hanley's parents told her that Lloyd went to live on a farm where he has lots of room to play, run, and be free. The proverbial farm lives on. I hope Rex is there with him.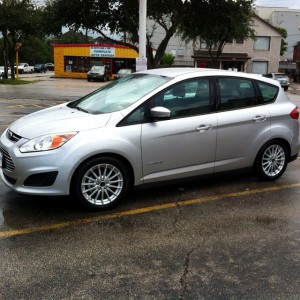 I have a car! That's pretty exciting. Can you believe I'm 41 (Oh geez. I typed it out loud.) and I've never owned a car until now? I lived in New York City for so long, and you don't need a car at all there, and when I moved to Houston I borrowed my friends' cars under the pretense of being kind to the environment and keeping my carbon footprint down to sandal size. In reality I was poor and couldn't afford a car. But lately all I ever do is drive from one part of the city to the next. Or, I'm at somebody else's house in another part of the city taking care of their dogs and home, which means Becky's car was never home for her to use. (Since 9 times out of 10 it was her car I used.) So, after months of research to figure out which car would be right for me, I bought a Ford C-Max. I love my car. Not only is it practical, but it's fun to drive. Driving economically becomes a game. Will I get 38 mpg or 43 mpg? Fun! It's great for driving Hanley around, delivering dogs, and everything else I have to do on a daily basis. More than that, it's just great to be able to get into my car and go wherever the heck I want at any time. Also, I love saying, "My car."
I took MY CAR on a road trip shortly after I got it. My grandmother's birthday is in December, but she turns 100 this year, so the town of Knapp, Wisconsin, wanted to celebrate this milestone and throw her a birthday party. Since her actual birthday is very close to Christmas they decided celebrating in October would be best, because more people and
family would be able to attend and it wouldn't be so cold. I didn't hear about it until a couple weeks before the event, but I really wanted to go. I don't get the opportunity to visit family very often, and this seemed like a great reason to make it happen. Plus, I'd just obtained one of the most economical cars on the road, so it seemed like fate was saying, "Dude, ROAD TRIP!" Hanley approved my vacation, so I away I went. Nobody in my family–except my aunt, Ann, because she told me about the event on Facebook–knew I was coming, so it was a lot of fun to show up and surprise everyone. Especially my grandmother, who was shocked and thrilled to see me. I don't get a lot of opportunity to get to Wisconsin, so I'm glad I made the effort to go. Especially since a lot of relatives I haven't seen in many years showed up. It was hard to leave. On the way up, I spent the night in a really skanky hotel that was like living inside of an ashtray in a basement rec room on a wet day in 1978. So on the way back to Houston I made up for it by treating myself to a night in a Hilton. It was wonderful. I wish I could've stolen the bed.
At the end of September I was asked to join the board of a new rescue organization in Houston called Rescued Pets Movement. Rather than try to find local homes for dogs and cats, Rescued Pets Movement (RPM) will reduce the euthanasia rate of Houston's shelters and number of homeless pets on the streets (recently estimated to be 1.2 to 1.4 million dogs and cats) by removing dogs and cats from the Bureau of Animal Regulation and Care (BARC), our city's pound, and transporting them to shelters and rescue organizations outside of the Greater Houston area where adoptable pets are needed. It's hard to imagine that there are some places in the country in need of pets to adopt out to their community, but there are places like out there, and RPM is finding them. Currently, we're working with organizations between Colorado Springs and the Denver metro area in Colorado. Since we formed two months ago, RPM has moved over 300 dogs and cats out of BARC, most of whom were scheduled to be put to sleep. I feel like I've helped create something special and am a part of something very important. More than that, I feel like we're making a difference, which is a wonderful feeling. Not only are we changing something for the better here in Houston, but we're improving the lives of the people who can now receive these precious dogs and cats and give them homes in far off places. It's a lot of hard work to make it happen, but when you think about it in those terms, and when you see all the people who foster our dogs and cats come together on a transport day to send them off to be adopted elsewhere, it's definitely worth it.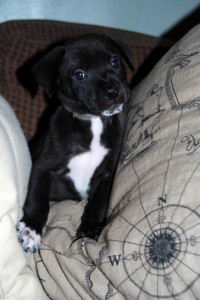 I know my life certainly improved because of RPM and the pets we save. Pollock was one of seven puppies at BARC who were about to be put to sleep. Unfortunately, his litter mates all came down with parvo, a disease often deadly to unvaccinated puppies. Pollock, luckily, never showed symptoms of the disease and lived, which is ironic since he was the runt of the litter. After I agreed to be a board member for RPM I thought I should step up to the plate and foster Pollock. I failed. I had to keep him. The best part is that Hanley's mom–who is also on the board of RPM–adopted Pollock's sister, Ruby, who was treated for parvo and lived. It makes me glad to know these two puppies defeated the odds, lived, got out of BARC and get to play with each other as soon as they've had all their booster shots. Next Monday! Pollock is an absolute delight and makes me laugh every day. I'm so glad he's a part of my life now, and I'm so grateful to BARC that I have him.