I was driving down a street last Thursday which I'd never been on before. It was quiet, bridging industrial and residential areas, and traffic seemed very light. There were sweet little brick bungalows and duplexes in an area that hadn't been razed by townhouses yet. I thought, This is nice. I wonder what it's like to live here?
Later, I received texts from a dog sitting client. She was with friends who were in sudden need of someone to watch their dog for the weekend. Was I available?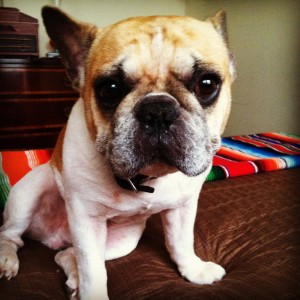 I was. It was my first free weekend in months, which gave me pause before accepting, but I did. After much back and forth texting I found out they were leaving in the morning. I always insist on meeting a new dog with the owners before I stay with him for the weekend. They lived fairly close, so I went over to meet their dog. When I turned onto their street I realized it was the same street I was musing about earlier that day. I should've bought a lottery ticket, but I didn't.
I got to stay in one of the brick duplexes the entire weekend with a French bulldog named Buster. At first his grunting and wheezing unsettled me, because I was afraid he was overheating, or might pass out, or worse. But after a while I accepted the fact that it was his way, and his odd noises became background noise while I read. He was a sweet pup and we became fast friends. Snoring usually keeps me awake at night, but Buster's was very rhythmic and lulled me into a deep sleep every night I was in his home. I was much obliged.
The only other thing I had going on this weekend was a date to attend Romeo & Juliet at the Houston Ballet with Hanley and her mother. H's mom had won tickets at a benefit auction a while ago, thinking it would be fun to take Hanley and asked if I'd want to go, too. I hadn't seen a ballet production since I lived in NYC, so I readily accepted the invitation. Plus, I wanted to see H's reaction. I showed her a YouTube video a long time ago of a bit of some random production of Swan Lake and she was instantly obsessed. Her mother found a few ballet DVDs for her to watch, and she's still taking dance classes. Plus, she knows how to whisper, so it seemed reasonable to take a 3 year old to the ballet.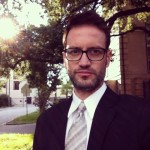 Going out in public to spend time with hordes of strangers isn't my thing, but I do clean up nicely, so I was surprisingly glad to get dressed up on Saturday night and go out. Hanley's mom picked me up where I was housesitting, and after I climbed into the passenger seat of her car and shut the door, Hanley said, "You look very nice, Timothy!" "You look beautiful, Hanley," I replied. And she did. She wore a pink dress with a ruffled gauzy skirt, purple sparkly leg warmers, her pink ballet slippers, and her hair was in a bun. If she broke free from us and ran onto the stage, at least she'd look like a ballerina. Maybe nobody would notice.
The Big H was very excited to see the ballet. Her mother had briefed her before leaving the house on how she had to be quiet and sit very still in her seat throughout the entire production. "I have to sit still, be very quiet, and act like a grown-up big person," Hanley explained to me. "That's a good plan," I agreed. Heads turned in our direction from the moment we entered the Wortham Center until we found our seats. Everybody smiled at Hanley or commented on how pretty she looked. Nobody seemed at all perturbed at the sight of a toddler attending the ballet. If they had been, I would've understood. Who isn't wary at the sight of a toddler on a plane, at the movies, or anywhere where you expect to have a long stretch of peace and solitude as you enjoy a cultural moment? Instead, everybody seated around us smiled as Hanley sat in her seat on the aisle and anxiously waited for the ballerinas to dance for her enjoyment.
As the lights went down and the orchestra began to play Hanley started to whisper something to her mother. What she said or was going to say, I have no idea, because I couldn't hear her, even though I was two seats away, and because the woman in front of us suddenly turned around to Hanley and said, "Stop it!" The words were hissed, with a vengence, enough to make Hanley cringe in horror and almost cry. H's mom and I were stunned. Until that point, yes, Hanley had been talking. But so was everyone else, and nothing had happened on stage yet. Also, Hanley was whispering. Again, how many 3 year olds do you know who can whisper? H's mom comforted Hanley and reassured her that everything was okay. As she did, the woman in front of us almost turned around again to say something, but H's mom said, "Don't even think about it, lady!" Luckily, the woman listened and said nothing more to us. However, H's mom and I were seething. How dare anyone speak that way to a child?
Despite that moment, Hanley enjoyed the first act of the Houston Ballet's Romeo & Juliet. I thought it was good, but I spent most of the time watching Hanley watch the ballet. She did everything we asked of her. She was quiet. She sat still. She acted like the adults around her and appreciated the performance. Being a period production interpretation of a play in three acts, there were no sparkly tutus, which Hanley expects all ballerinas to wear, so I expected vocal disappointment about that from Hanley, but it didn't seem to bother her at all. When the lights came up after Act One, she wanted more. H's mom and I were ready to bolt after five minutes if Hanley was loud or showed the slightest disinterest, so we were shocked she lasted through the entire first act. It was late and already past her bedtime, so we broke it to her gently that we had to go.
The horrible woman in front of us bolted from her seat and hightailed it for the lobby as soon as the curtain closed and was gone before the lights went up. The woman seated next to her, who was obviously a friend, turned around to agree with me when I told Hanley that she was extremely well behaved and surpassed our expectations of her. "Your friend didn't think so," I remarked. The woman apologized to Hanley and again remarked that H behaved wonderfully. I thanked her for that as we left, but I wish we were able to confront her friend and find out why she was so horrible to Hanley. I wanted to tell her that whatever the problem, she should've addressed the adults and not the child. I also wanted to tell her that her only social redeeming value was that she makes it possible for little girls like Hanley to believe in tales with evil stepmothers and wicked witches.