From my e-mail inbox and certainly worth sharing:
Meet Simo! (Pronounced See-Mo; Simo was a Finnish sniper who was shot in the face, yet survived to keep fighting the Russians and lived to be 97 years old. We thought it was a fitting name!) Simo was picked up as a stray near the Houston ship channel by BARC and they immediately noticed that he had been shot multiple times. Scout's Honor was contacted and our awesome volunteers immediately stepped up and helped us raise funds (Thank you all soooo much for making it possible for us to rescue Simo!) so that he could be rushed to our emergency vet for immediate treatment. He had an entry/exit gunshot wound on his right upper leg, what appeared to be a gunshot wound through his right thigh and several puncture type wounds on his lower left leg (which could be bite wounds). Despite being seriously beaten up and going through such a stressful situation, the vet said he instantly tried to wag his tail when they talked to him. That says a lot about this darling boy's temperament! Our vet also told us that he must have sustained his injuries at least a day or so before he was picked up by animal control, as infection had set in and the wounds had already started to granulate, so they didn't want to put sutures in at this point.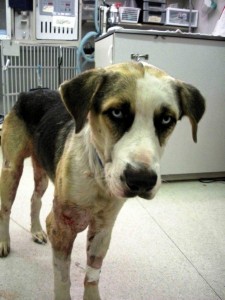 He's now on heavy duty antibiotics and pain meds, receiving fluids as he was super dehydrated, and getting much needed food–which he loves! Amazingly, he has no broken bones, just a lot of swelling and bruising, and as you can see from the pictures, he is able to stand just fine, though he's a little slow to get around. Poor baby has endured a lot, but it's all sunny skies from here on out! All of the people at the vet's office fell in love with him instantly! He's just the sweetest boy, and all he wants is some love and attention. Poor baby is super skinny and definitely needs some good groceries. Right now he only weighs about 50 lbs, but could stand to gain quite a bit of weight. He's a total looker with those beautiful blue eyes–hard to resist!
We really need a foster home for Simo where he can relax and heal. A stressful kennel is absolutely no place for him to heal. He needs a foster home where he can rest his head on a soft pillow, put some weight on and enjoy the good life that he will no doubt relish. He seems to do great in the cage at the vet's office, so he would likely do just fine with crate rest. We can loan you a crate. Even if you can temporarily foster him until he's healed some, that would be fantastic and a huge help!
Meet Scout! This precious girl came out on a special plea from BARC and with her namesake, we couldn't resist! This little gal was found wandering the street where BARC is located and was picked up and dropped at the shelter. She was likely dumped there as we feel certain she was someone's dog at some point.
Scout is as sweet as they come! When you call her, she puts her ears back, smiles and wiggles her little butt as fast as it can go and then when she gets to you, she plops down and rolls over for a belly rub! Scout knows several commands already including "sit", "shake" and "high five". We even caught a picture of her high-pawing us this weekend!
Scout is approximately 18 months old and weighs 44 lbs right now. She is underweight and we expect her to be closer to 50ish pounds when she fills out. Scout has a bit of Demodex that she has started on meds for and her coat will be back to shiny in no time.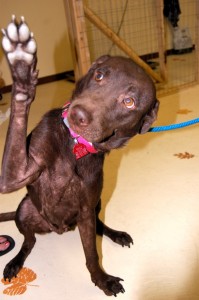 What Scout doesn't have is a foster home!! Please consider opening your home to this very easy and loving girl. She gets along with everyone and is already quite the snuggler. She just needs her own little family, maybe another dog and some kids to play with. Ahh, bliss for Scout!
If you are interested in fostering or adopting this Scout or Simo, please contact info@scoutshonor.org To read about Scout's Honor's adoption and fostering procedures, to fill out an application, or to make a donation for either dog's care, please visit our website at www.scoutshonor.org. As always, Scout's Honor pays all costs associated with fostering, and if requested, the foster can receive a tax deduction receipt from Scout's Honor for all of his or her own documented expenses related to fostering. Please consider opening your heart and home to one these precious dogs. I promise it will be a very rewarding experience and they will be eternally grateful!